We used to go to Aldi's when I was younger but quit going when I was an adult.  It was not until Tanya died did I start going there again.
Now I love that place.  It's probably my most favorite grocery store.
I love how Aldi's has labeled foods as being gluten free.  It makes it so much easier to shop.
Here are five of my favorite gluten free foods from Aldi's:
I found these when we were on vacation in Charleston, SC.  I got some hummus and decided I wanted to dip crackers in the hummus.
These are especially good with the olive tapenade hummus they have at Aldi.  Yum!
Blue Tortilla Chips
We love our tortilla chips here at my house.  The Wee One and I enjoy snacking on tortilla chips with either apple or pineapple salsa.
I would take these to school last year.  My students were fascinated with the fact they looked like black chips.  Once they tried them, they realized they tasted similar to regular yellow corn chips.
Caramel Apple Baked Chewy Bars
Yum!  These are nice to have as back-up bars when you are running errands.
Gluten Free Pretzels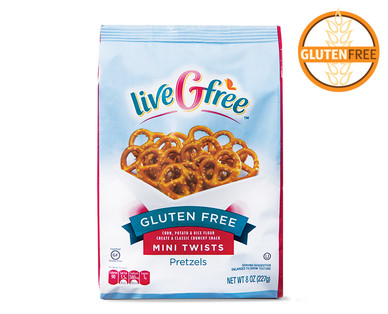 These are delicious.
Nut Mixes
They have two different nut mixes that I really enjoy.  Both are just raw nuts and /or seeds.  One has cashews, walnuts, and macadamia nuts.  The other has almonds, pecans, and sunflower kernels.  Both are delicious.  Enjoy in moderation.
Happy eating,
Traci